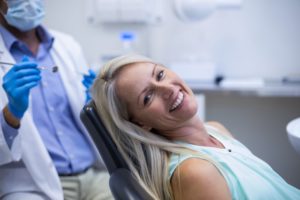 During the Coronavirus pandemic, the best step you can take to stay safe is social distancing. Remaining 6 feet apart from others will prevent any contagious respiratory droplets from affecting you. However, what if you need to go to the dentist during this uncertain time? Is it safe? Your dentist already takes cleaning and sanitation incredibly seriously, but they are now using extra precautions during COVID-19. Read on to give yourself peace-of-mind by learning more about the advanced safety measures your dentist has in place.
The Safety Champion
One of the main ways your dentist is staying safe during the pandemic is by appointing a Safety Champion. This important staff member acts as almost a "hall monitor," guiding traffic throughout the practice to ensure there is no unnecessary contact. Essentially, they can help everyone maintain social distancing, keeping tabs on the bathroom, hallways, and other common areas.
Frequent Health Checks
As soon as anyone enters the practice, whether it's a patient or staff member, they will undergo a quick, no-touch temperature check. This easy diagnostic takes a matter of seconds and can catch symptoms of COVID-19 before it affects anyone inside of the office. As a patient, you will also complete a questionnaire about your current health status to ensure that your dentist is aware of any issues.
Virtualized Waiting Room
Instead of waiting in the office, your dentist is using technology to their advantage with virtual waiting rooms. Now, you can check in to your appointment from the safety and comfort of your own vehicle. Then, when it's time for your appointment, you'll be notified to walk into the practice. Dentists can also hold virtual consultations, discussing the problems you're dealing with and going over your next steps before you even need to visit the office in person.
Changes in Routine
Before all of this uncertainty, dental staff members often wore their work clothes home. However, the COVID-19 pandemic has caused dentists and their staff to change their routine. Instead, they now change their dental clothes in the office so they aren't bringing any unwanted germs to and from the practice. This integral step helps keep staff and patients safe. Additionally, they are using CDC-approved disinfectant, wiping down all affected areas before and after each patient for ultimate sterilization.
If you need dental care during the pandemic, there is no need to worry! Remember that because of all the steps taken by your dentist, their practice is one of the safest places you can visit.
Meet the Dentist
Dr. Joshua Thomas Pogue understands that the Coronavirus can cause anxiety for a lot of his patients. That's why he wants you to know about some of the steps he has taken to make his practice clean, safe, and sterilized. He has all the dental services you need to stay healthy even during COVID-19. If you have any questions, he can be contacted through his website or by phone at (563) 332-7734.