Dental Implants – Bettendorf, IA
Tooth Replacement
From Top to Bottom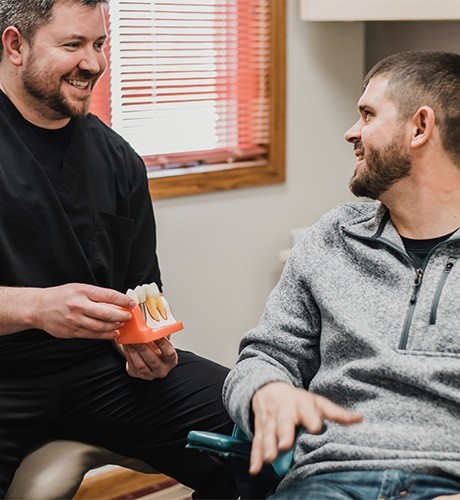 With dental implants in Bettendorf, Dr. Pogue doesn't just replace a patient's missing teeth, he practically gives them their natural teeth back. The new teeth are fitted to small titanium posts placed within the jawbone that act like tooth roots, creating a prosthetic with a look and fit that a patient will enjoy for decades to come. From single crowns to full dentures, Dr. Pogue can use implants to help patients recover any number of missing teeth, and he can guarantee a comfortable experience every step of the way. Are you ready to stop living with gaps in your smile? If so, contact us today to learn more about implants.
Why Choose Pleasant Valley Dentistry for Dental Implants?
Dentist is a Fellow of the International Dental Implant Association
Newest Technology Guarantees a Comfortable Experience & Gorgeous Results
Entire Procedure Provided In-House To Help Patients Save Time & Money
Benefits of Dental Implants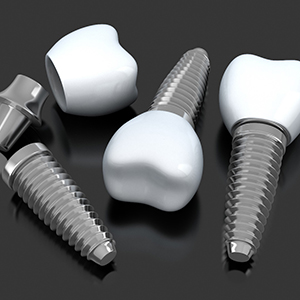 Why does Dr. Pogue always recommend dental implants first to his patients dealing with tooth loss? Because they offer several benefits you just can't get with other treatments:
Because implanted teeth have roots just like real ones, patients can eat whatever they like without dealing with embarrassing slippage or breakage.
Every implant is topped with a custom-made porcelain restoration that is specially designed to blend into a patient's smile.
Once in place, implant roots actually stimulate the jawbone and prevent bone loss. This helps keep it strong so the other teeth won't shift.
By maintaining the jawbone, dental implants also ensure that a patient's facial muscles always have adequate support, leading to a more healthy and youthful appearance.
When placed by a specially-trained dentist like Dr. Pogue, implants have been shown to last for 30 years or more.
Indications for Dental Implants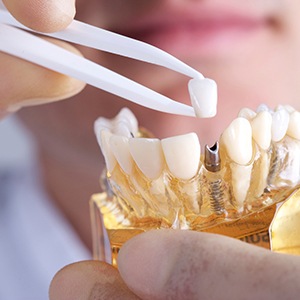 One of the best things about dental implants is that practically every patient can get them. All that's required is a mouth and jawbone healthy enough to support the new roots. When this has been confirmed by Dr. Pogue, he can pair implants with a variety of restorations:
Missing One Tooth
Rather than having to reshape two teeth to support a bridge that replaces a single tooth, Dr. Pogue can simply attach a crown to an implant root and position it within the smile. This approach leaves the rest of a patient's teeth alone, preserving their remaining dental structure.
Missing Multiple Teeth
Prosthetics like bridges and dentures can be secured using implants to replace consecutive missing teeth as well as those located throughout the mouth. Implants provide incredible stability, plus they help the new teeth last much longer compared to regular bridges and dentures as well.
Missing All of Your Teeth
All it takes is just four to six implants placed along the jaw to support a full denture that instantly brings back an entire row of teeth. In addition to fitting more comfortably than regular dentures, implant dentures also restore much more of a patient's bite strength, meaning they can chew a wider variety of foods with ease (particularly cooked meats).
Start to Finish Convenience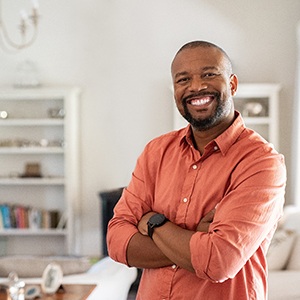 As a Fellow with the International Dental Implant Association, Dr. Pogue has undergone countless hours of training specifically dedicated to dental implants. Thanks to this, he's one of the few dentists in the Bettendorf area who is able to both place the new roots as well as attach them to a patient's new teeth. This one-stop-shop approach is much more convenient for patients versus dental offices that have to refer out for each procedure, and it allows Dr. Pogue to save people time and money while they rebuild their smile.
Understanding the Cost of Dental Implants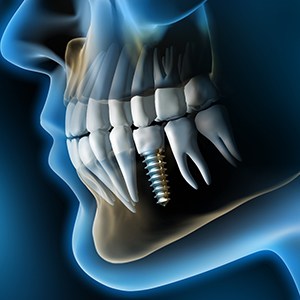 Dental implants are extremely versatile and can be personalized to help patients dealing with any degree of tooth loss. Because of this, the cost of the procedure can vary quite a bit from patient to patient. To get an accurate estimate of what you'll be expected to pay, Dr. Pogue will need to give you an exam at a consultation. This will enable him to go over every detail of what your particular implant process will be like. While it's true that implants can be a sizeable investment, they are one that's intended to last for decades. Most other tooth replacements only have a lifespan of about five to seven years, meaning the average implant patient ends up saving thousands by comparison on periodic maintenance alone.
Dental Implant FAQ's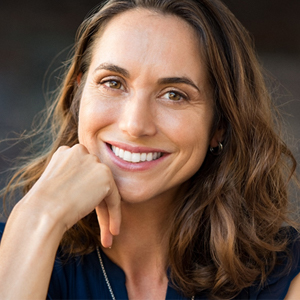 If you're considering dental implants in Bettendorf, you may be wondering about certain aspects of this process. This lifelong tooth replacement has many benefits but knowing important information about dental implants will ensure that you feel confident in your choice. That's why we've included the answers to some of the most frequently asked questions about dental implants. Keep reading to satisfy your curiosity!
How Many Dental Implants Do I Need?
If you're missing teeth, you may be wondering about the number of dental implants you will need to complete your smile. Unfortunately, without examining your smile in person, it's hard for Dr. Pogue to give you a precise estimate. In some cases, larger teeth may require multiple implants to support them. Or, if you're missing all or most of your teeth, Dr. Pogue can use an implant-supported denture to replace your entire smile.
Can Dental Implants Help with My Dentures?
If you're missing most or even all of your smile, dental implants are the strongest and most natural feeling replacement. With an average of 4 dental implants placed in the jaw, Dr. Pogue can anchor a denture in place to create a strong, sturdy, and beautiful set of teeth. In some cases, we can even attach the denture you already have to implants. It will all depend on your smile.
Does My Insurance Cover Dental Implants?
Most dental insurance plans do not cover dental implants because they see it as an elective procedure. However, that doesn't mean you can't save money. At Pleasant Valley Dentistry, we are experts in minimizing your out of pocket costs. Your insurance plan may be willing to cover certain aspects of the procedure, and we also offer various financing options. That way, cost will never get in the way of getting the quality treatments you need.
Does the Dental Implant Process Hurt?
Getting dental implants is a surgical process that involves placement in the jawbone. When people initially hear about this procedure, they may think it's going to hurt. In reality, patients that have received dental implants relate the very slight discomfort they felt to a simple extraction. In fact, patients will typically report that the most pain they feel is some slight soreness during the recovery process—after the surgery is complete.
Are Dental Implants Right for Me?
The best way of knowing if you're a good candidate for dental implants is to schedule a consultation with our expert implant dentist, Dr. Pogue. He will carefully examine your smile, the condition of your oral health, and the strength of your jaw before recommending the treatment that's best for you. Patients who could benefit from dental implants are typically those who are missing teeth, have a strong enough jawbone to accommodate them, and are committed to a good oral healthcare routine.
If you have any other questions, contact our office to talk to one of our friendly team members!