Dental Implants – Bettendorf, IA
Top-to-Bottom Tooth Replacement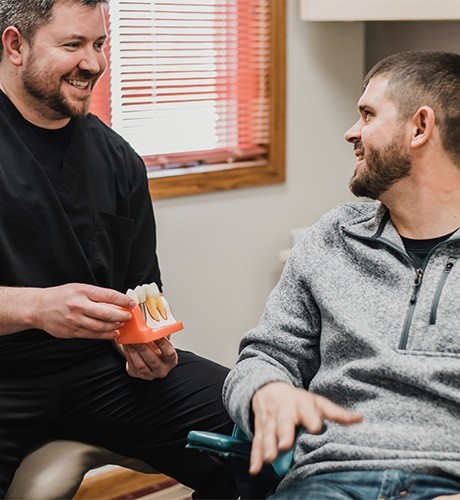 Tooth loss makes it increasingly difficult for millions of Americans to eat certain foods, speak clearly, and smile with confidence. Not only that, but missing teeth can lead to bone loss in the jaw that causes you to look much older than you really are. Modern dentures and dental bridges look incredibly lifelike, but they can't hold a candle to dental implants. With dental implants in Bettendorf, Dr. Pogue can practically give you your natural teeth back. Are you ready to stop living with unsightly gaps in your smile? If so, contact us today to learn more about dental implants!
Why Choose Pleasant Valley Dentistry for Dental Implants?
Entire Dental Implant Treatment Provided In-House
Fellow of the International Dental Implant Association
CT/Cone Beam Scanner Guarantees Precise, Safe Treatment
What Are Dental Implants?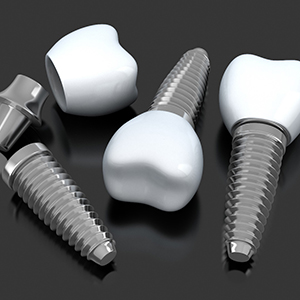 A dental implant is a small cylindrical post, usually made from titanium, that is placed directly in the jawbone. What makes dental implants unique is their biocompatible nature. Once they are surgically inserted into the jaw, they merge with the bone and tissue in a process called osseointegration. Essentially, it becomes a part of your body. This makes it a perfect "root" for your new teeth, ensuring that your dental crown, bridge, or denture remains securely in place at all times. Thanks to the top-to-bottom tooth replacement that dental implants provide, you'll have a smile that looks, feels, and functions exactly like what Mother Nature gave you!
4 Step Dental Implant Process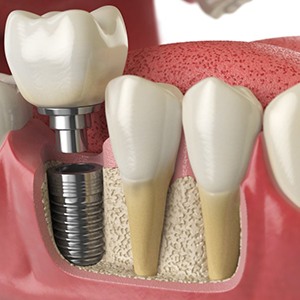 Receiving dental implants requires a more complex process than getting a denture or a bridge. It will take several appointments over the course of at least a few months or longer. However, we're sure that the end result will be worth the wait! We'll go over what you can expect throughout the process at your consultation, but for now, know that the four main phases are: consultation/preliminary procedures, dental implant surgery, osseointegration/abutment, and the placement of your restorations.
Initial Dental Implant Consultation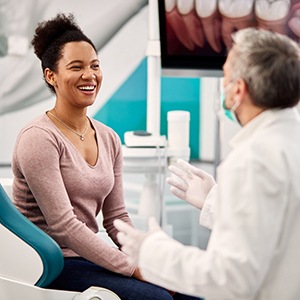 Although no real treatment occurs during your implant consultation, this appointment is extremely important. Dr. Pogue uses this visit to closely examine your mouth and assess your eligibility for dental implants. Depending on your oral health and jawbone density, we may need to schedule treatments, such as gum disease therapy or a bone graft, to prepare you for the placement procedure. Once we determine that you're a good candidate, we take images of your oral cavity using our cone beam CT scanner to precisely plan the procedure and avoid complications in the surgery. At this point, we can also provide you with a detailed treatment plan and the estimated cost of treatment.
Dental Implant Surgery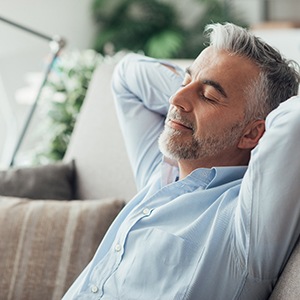 As a Fellow with the International Dental Implant Association, Dr. Pogue has undergone countless hours of training specifically dedicated to dental implants. Thanks to this, he's one of the few dentists in the Bettendorf area who is able to both place the new roots as well as attach them to a patient's new teeth. This one-stop-shop approach is much more convenient for patients versus dental offices that have to refer out for each procedure, and it allows Dr. Pogue to save people time and money while they rebuild their smiles.
Dental Implant Osseointegration & Abutment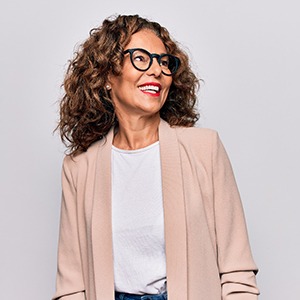 After Dr. Pogue has placed the implant posts, the jawbone needs plenty of time to grow and surround them. This process, which is called osseointegration, usually takes three to six months. Once the jawbone has fused to the posts, we then reopen the gum tissue to position the abutments or connectors, which attach to your implant-retained crown, bridge, or denture. We also take impressions of your mouth so that we can begin creating your custom restoration. Instead of using traditional putty to collect this data, we utilize the latest digital technology, which makes the process much more pleasant as well as more accurate.
Delivery of Dental Implant Restoration(s)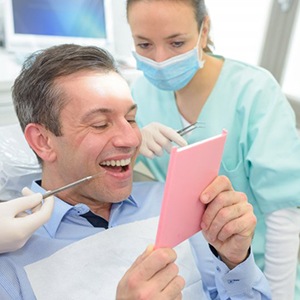 In a trusted dental lab, your restoration will be fabricated using high-quality materials to look identical to natural enamel. As soon as the restoration is ready, we call you back in for one final appointment and bond your prosthetic teeth permanently in place. The restoration should blend in perfectly with your remaining teeth, giving you plenty of confidence. After that, you walk out of our office with a complete smile! You're free to eat almost anything you want, provided that it's not too sticky or hard, just like you would with real teeth.
Benefits of Dental Implants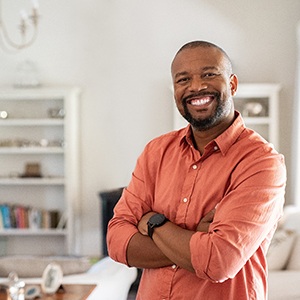 Choosing dental implants means making an investment in your smile that will last for years to come. So, what makes that investment worthwhile? While there are multiple options for replacing your teeth, there are many benefits that you'll only be able to enjoy if you get prosthetic teeth that are supported by dental implant posts. Before you call Pleasant Valley Dentistry to discuss solutions for tooth loss, Dr. Pogue would like you to consider some of the advantages of using dental implants to support a single crown, a dental bridge, or a full denture.
Comfort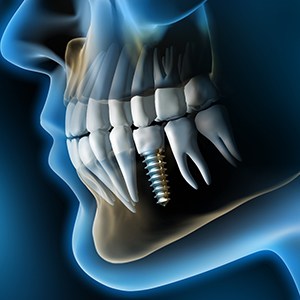 Dental implants come the closest of all forms of tooth replacement to feeling just like your new teeth. This is thanks to the process of osseointegration, which is where the bone joins with the titanium dental implant posts. Effectively, the implants actually become part of the bone itself, which not only makes them more stable but also helps them feel like they really are a natural part of your body. If you didn't know better, you might even forget you had an implant at all!
Appearance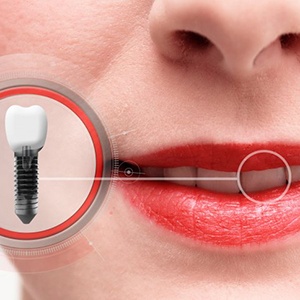 Dental implants don't just feel natural; they look natural too. The titanium implant posts will be completely hidden under the gum tissue as well as your prosthetic tooth or teeth. Said prosthetic will be made out of tooth-colored material that has been shaded to match the rest of your smile so that no one can even tell that there's a fake tooth in your mouth. Thus, implants don't just restore your smile; they also restore your confidence.
Speech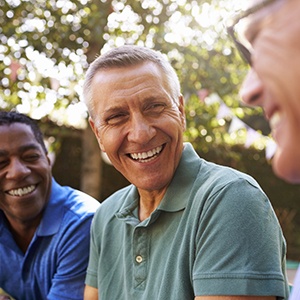 One downside of dentures is that if they don't fit correctly, they can slip at inopportune times and cause you to slur your words. As time passes by, changes in your mouth will also cause your dentures not to fit as well as they used to, increasing the risk of movement. Implants both hold your teeth firmly in place and prevent such changes from ever happening in the first place, making it easier to speak clearly at all times.
Varied Diet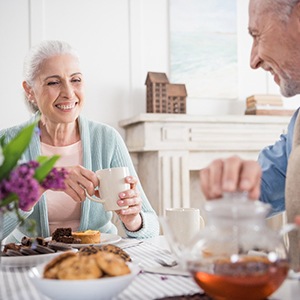 Not only can dentures slip while you're chewing your food, but even when they stay in place, they can present challenges while eating steak and other tough meals. Implants provide most of the chewing power that natural teeth typically provide, so you can continue eating all of your favorite foods without worrying about pain or an inconvenient slip.
Oral Health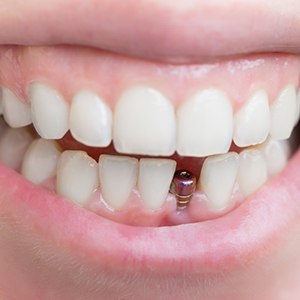 There are various ways that implants improve oral health. First of all, they don't require reducing your natural teeth, which makes them a good alternative to a traditional bridge if you want to preserve your natural smile. Second, they stimulate the jawbone and prevent it from breaking down, which in the long run can also help stop further tooth loss from occurring.
Durability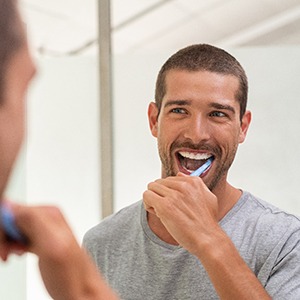 A dental implant can last 30 years or longer with the right care. As long as you're brushing and flossing every day and keeping up with your regular dental appointments, you can look forward to a lifetime's worth of smiles.
Who Dental Implants Can Help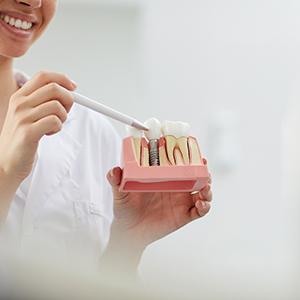 One of the best things about dental implants is that practically every patient can get them. All that's required is a mouth and jawbone healthy enough to support the new roots. When this has been confirmed by Dr. Pogue, he can pair dental implants with a variety of restorations:
Missing One Tooth
Rather than having to reshape two teeth to support a bridge that replaces a single tooth, Dr. Pogue can simply attach a crown to an implant root and position it within the gap in a smile. This approach leaves the rest of a patient's teeth alone, preserving their remaining dental structure.
Missing Multiple Teeth
Prosthetics like bridges and partial dentures can be secured using implants to replace consecutive missing teeth as well as those located throughout the mouth. Implants provide incredible stability, plus they help the new teeth last much longer compared to regular bridges and partials as well.
Missing All Teeth
All it takes is just four to six implants placed along the jaw to support a full denture that instantly brings back an entire row of teeth. In addition to fitting more comfortably than regular dentures, implant dentures also restore much more of a patient's bite strength, meaning they can chew a wider variety of foods with ease (particularly cooked meats).
Understanding the Cost of Dental Implants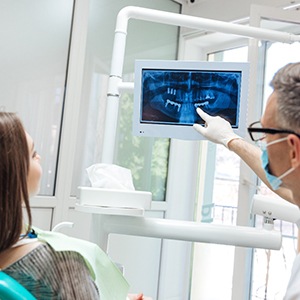 Dental implants are extremely versatile and can be personalized to help patients dealing with any degree of tooth loss. Because of this, the cost of the procedure can vary quite a bit from patient to patient. To get an accurate estimate of what you'll be expected to pay, Dr. Pogue will need to give you an exam at a consultation. This will enable him to go over every detail of what your particular implant process will be like. While it's true that implants can be a sizeable investment, they are one that's intended to last for decades. Most other tooth replacements only have a lifespan of about five to seven years, meaning the average implant patient ends up saving thousands by comparison on periodic maintenance alone.
Types of Dental Implants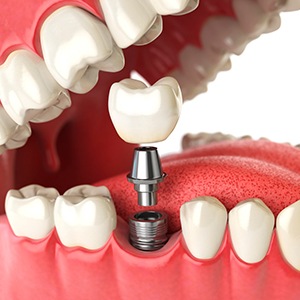 No matter how many teeth you are missing, dental implants are a reliable method to restoring your smile. The different types of implants often have varying costs, usually depending on the number of implants used and the complexity of the treatment.
Here are the three main types of dental implants:
Single Tooth Implant – Fill the gap left by a single missing tooth by combining a titanium implant, metal abutment and custom dental crown. Single tooth implants typically cost less than other, more extensive implant treatments.
Implant Bridge – Replace two or more consecutively missing teeth with an implant bridge. This type of implant treatment usually relies on two implants.
Implant Denture – Used to replace an entire row of missing teeth, implant dentures often require four to six implants and can cost more than other implant treatments.
What Are the Stages of Dental Implant Treatment?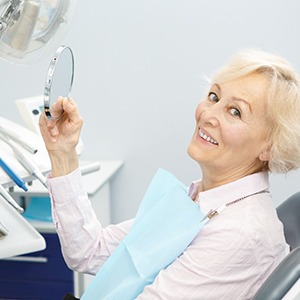 Each stage of treatment contributes to the overall cost of dental implants. Here is a brief overview of the three main phases:
Initial Consultation – Dr. Pogue will thoroughly examine your teeth and surrounding oral structures and formulate a plan for implant placement. He will also take impressions of your smile and send them to the dental lab, where your custom implants will be crafted.
Surgical Placement – During the next phase, Dr. Pogue will surgically place the implants into the jawbone beneath the gums where your teeth are missing. Local anesthesia will help ensure you are comfortable throughout the placement procedure.
Custom Restoration – Once your implants have fully healed after several months, you will return to our office so Dr. Pogue can securely attach your custom dental crown, bridge, or denture onto your implants. You can then walk out the door with your smile fully restored!
Are Dental Implants Worth the Investment?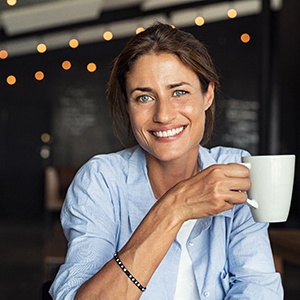 Dental implants are considered by many dentists to be the best tooth replacement method thanks to their superior stability and natural look and feel. They are also the only restorative treatment that replaces missing tooth root structure, which stimulates the jawbone and prevents bone deterioration. If that does not convince you that dental implants are a wise investment, consider this: with proper care, implants can last for decades – perhaps even for the rest of your life! So, while implants may cost more upfront, they often can actually be the cheaper tooth replacement option in the long-term.
Does My Dental Insurance Cover Dental Implants?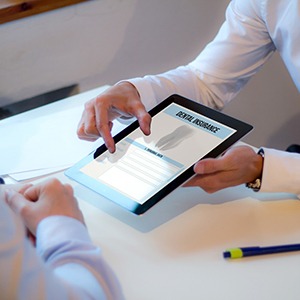 While every dental insurance plan is different, many still do not cover dental implant treatment. However, certain aspects of treatment – such as the initial consultation, anesthesia, etc. – may still be covered. If you need assistance navigating the fine print of your dental insurance plan, do not hesitate to give our staff a call. We are always happy to help patients understand their insurance benefits and get the most out of their plan.
Dental Implant Failure & Salvage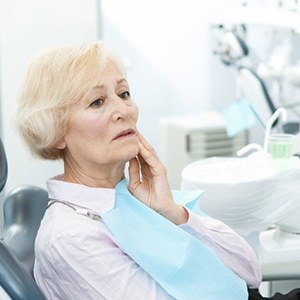 The success rate of dental implants is as high as 95%, and they can last a lifetime if you take good care of them. In rare cases, however, dental implant failure can occur. If you notice any discomfort, redness, swelling, or bleeding near your implant, please contact us right away. The sooner Dr. Pogue can see you and assess the situation, the more likely he will be able to save your smile with dental implant salvage.
Learn More About Dental Implant Failure & Salvage
Dental Implant FAQs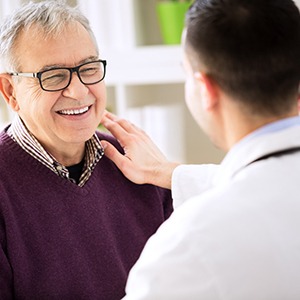 If you're considering dental implants in Bettendorf, you may be wondering about certain aspects of this process. This lifelong tooth replacement has many benefits but knowing important information about dental implants will ensure that you feel confident in your choice. That's why we've included the answers to some of the most frequently asked questions about dental implants. Keep reading to satisfy your curiosity!
How Many Dental Implants Do I Need?
If you're missing teeth, you may be wondering about the number of dental implants you will need to complete your smile. Unfortunately, without examining your smile in person, it's hard for Dr. Pogue to give you a precise estimate. In some cases, larger teeth may require multiple implants to support them. Or, if you're missing all or most of your teeth, Dr. Pogue can use an implant-supported denture to replace your entire smile.
Can Dental Implants Help with My Dentures?
If you're missing most or even all of your smile, dental implants are the strongest and most natural feeling replacement. With an average of four dental implants placed in the jaw, Dr. Pogue can anchor a denture in place to create a strong, sturdy, and beautiful set of teeth. In some cases, we can even attach the denture you already have to implants. It will all depend on your smile.
Does Dental Insurance Cover Dental Implants?
Most dental insurance plans do not cover dental implants because they see it as an elective procedure. However, that doesn't mean you can't save money. At Pleasant Valley Dentistry, we are experts in minimizing your out-of-pocket costs. Your insurance plan may be willing to cover certain aspects of the procedure, and we also offer various financing options. That way, cost will never get in the way of getting the quality treatments you need.
Does the Dental Implant Process Hurt?
Getting dental implants is a surgical process that involves placement in the jawbone. When people initially hear about this procedure, they may think it's going to hurt. In reality, patients that have received dental implants relate the very slight discomfort they felt to a simple extraction. In fact, patients will typically report that the most pain they feel is some slight soreness during the recovery process—after the surgery is complete.
Are Dental Implants Right for Me?
The best way of knowing if you're a good candidate for dental implants is to schedule a consultation with our expert implant dentist, Dr. Pogue. He will carefully examine your smile, the condition of your oral health, and the strength of your jaw before recommending the treatment that's best for you. Patients who could benefit from dental implants are typically those who are missing teeth, have a strong enough jawbone to accommodate them, and are committed to a good oral healthcare routine.
If you have any other questions, contact our office to talk to one of our friendly team members!
Maintaining & Caring for Your Dental Implants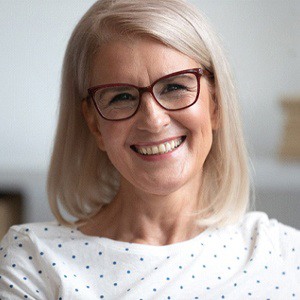 Want to ensure your dental implants remain firmly intact and in good shape for the remainder of your life? Do you want their success rate for placement to sit within the 90-95% range 10 years from now? If so, you'll need to make sure you're committed to taking proper care of your new teeth. Dental implant aftercare is a crucial step and continuous process once your prosthetics are in place. Knowing how to care for and maintain them will give you the confidence and reassurance you need to move through life with a happier, healthier smile. If you are ready to learn more about what steps you need to take, review the information below and feel free to contact us with any additional questions.
Make Oral Hygiene a Priority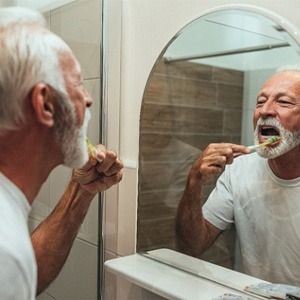 Just because you have dental implants does not mean you can disregard the potential for cavities, tooth decay, and gum disease. Yes, it is true that your implants cannot decay; however, your regular, healthy teeth are still quite vulnerable. Without regular brushing, flossing, and rinsing, you can put your real teeth as well as your implants at risk. To keep them in tip-top shape, you'll need to make sure you're brushing with a soft-bristled toothbrush twice a day for two full minutes. You'll also want to floss at least once a day (if not after every meal) and rinse with an ADA-approved mouthwash.
Eat a Healthy Diet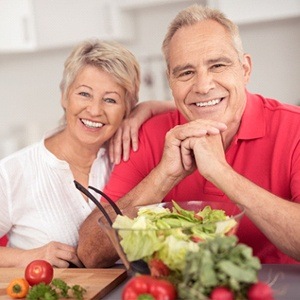 If you love sugar and starch, you'll need to make some serious decisions once you have dental implants. Eating too much candy, potato chips, and other harmful foods and beverages can leave your smile weak and deteriorating, causing cavities, decay, and gum disease to develop. However, by swapping these items for more nutritious options, you can set your smile up for success. Leafy greens, lean proteins, fruits, vegetables, and dairy are all great choices that can be incorporated into your daily diet. Those that are rich in calcium and Vitamin C will keep your bones strong and your gums healthy, reducing your risk for periodontal disease, which can cause your implants to fail.
Break Bad Habits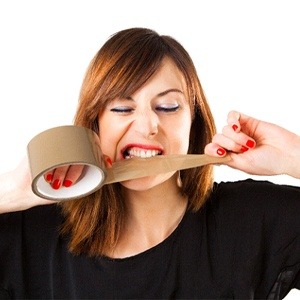 When it comes to caring for dental implants, you'll also want to make sure you're avoiding bad habits. Smoking, eating ice, opening packages and containers with your teeth, nail-biting, and chewing on inanimate objects like pens and pencils are all potentially harmful to your new smile. No one wants to make a trip to see the emergency dentist, so if you want to keep your implants looking new and flawless, you'll need to say goodbye to these bad habits and start taking better care of your smile.
Protect Your Dental Implants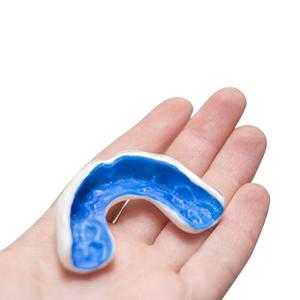 Although dental implants are extremely durable, they are not indestructible. This means that if you play sports and engage in rigorous outdoor activities, you'll want to protect your teeth and gums with a customized mouthguard. If you are prone to grinding or clenching your teeth at night, you'll want to consider a customized nightguard. These oral devices make it possible to better protect your entire smile by keeping your teeth from coming into contact with each other. They can also mitigate chronic jaw pain, safeguard soft oral tissues, and reduce your chances of implant failure over time.
Schedule Regular Dental Checkups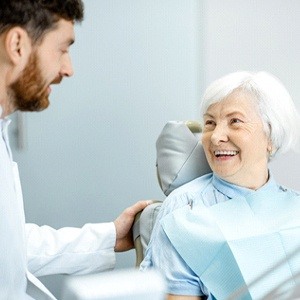 Regular dental checkups and cleanings every six months are still important even if all your teeth have been replaced with dental implants. It is simply no different than if you were to wear dentures. These visits allow your dentist to not only check for signs of gum disease and tooth decay (for natural teeth), but they also make it possible for your dental team to check your implants and make sure they have no imperfections and are firmly intact.