Cosmetic Dentistry – Bettendorf, IA
Enhance Your Smile,
Enhance Your Life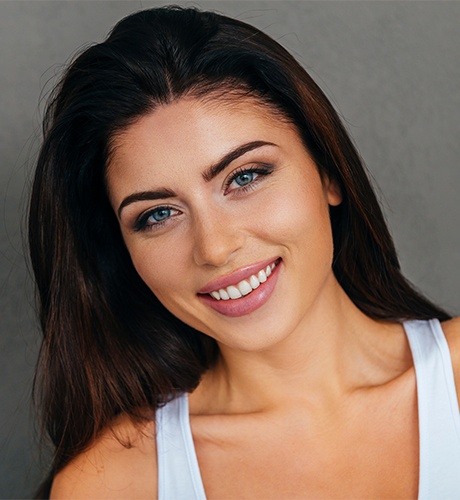 When was the last time you truly felt confident about your smile? Have you ever felt that way, or do noticeable flaws like chips, gaps, stains, and cracks cause you to always think twice before showing your teeth? If so, cosmetic dentistry can quickly come to the rescue. Whether you just want a brighter smile or a dramatic makeover, Dr. Pogue can help you achieve your dream look and enjoy the confidence that comes with it. It's easier than you might think to enhance your smile, and you can get started by calling us today to schedule a consultation for cosmetic dentistry in Bettendorf.
Why Choose Pleasant Valley Dentistry for Cosmetic Dental Treatment?
Results Guaranteed to Look Great & Last a Lifetime
Custom-Made Treatments for Every Patient
Change Your Entire Look with a Personalized Smile Makeover
Porcelain Veneers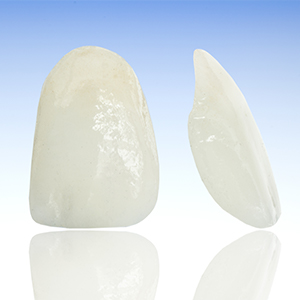 If you've ever watched TV or a movie, then you've definitely seen porcelain veneers. They're responsible for many of the perfect smiles in Hollywood, and it's been that way for decades! Now, you can get the exact same treatment in Bettendorf to dramatically improve your appearance without paying Hollywood prices. Dr. Pogue will simply place extremely thin ceramic restorations onto your teeth to change their shape, size, and color to whatever you want, and he can do so in as little as two visits.
Learn More About Porcelain Veneers
Metal-Free Dental Restorations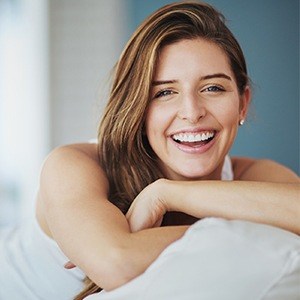 In the past, restorations were primarily made of silver and gold, and while this made them extremely strong, they weren't exactly natural-looking! Today, with advances in dental materials, patients can now enjoy the best of everything when repairing their broken or decayed teeth. Dr. Pogue can provide 100% ceramic crowns that are not only as durable as real enamel but have the same appearance as well. With this one treatment, he can help a patient recover their oral health, function, and smile all at the same time.
Learn More About Metal-Free Crowns
Dental Bonding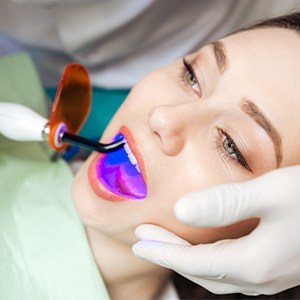 Fast, easy, and affordable, direct bonding is perfect for patients who want to get rid of minor imperfections in a single appointment. A composite resin is used to build up the enamel on a compromised tooth, and then Dr. Pogue reshapes it to hide the offending flaw, whether it's a minor stain, chip, or gap. This literally allows him to sculpt a tooth to perfection! He then hardens the material with a curing light, and it can be trusted to look great and stay in place for about 10 years.
At-Home Teeth Whitening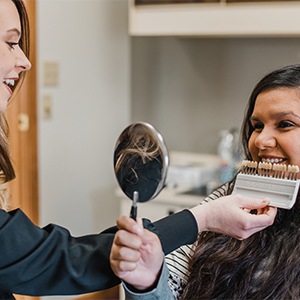 At Pleasant Valley Dental, we can not only help you achieve a dramatically brighter smile but also make sure you keep it that way for life. Dr. Pogue can provide you with a custom-made kit you can use at home that contains a bleaching gel much stronger than anything you'll find at the store, and with just two weeks of daily use, it will help your teeth become six to eight shades brighter. Even better, for one flat fee, you can get FREE refills of the gel so you can ensure that your smile shines for decades to come.
Learn More About At-Home Teeth Whitening
Smile Makeovers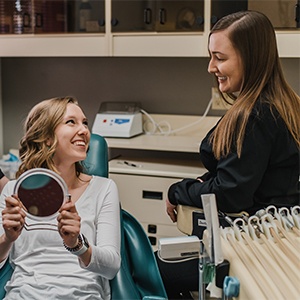 Even patients who have several decayed, broken, and missing teeth can achieve a smile that makes them proud thanks to Dr. Pogue. With a smile makeover, he combines multiple procedures to eliminate flaws, correct longstanding problems, and improve a patient's oral health and appearance at the same time. Every makeover is unique, so whatever kind of result you hope to achieve, you can trust Dr. Pogue to make it happen.
Botox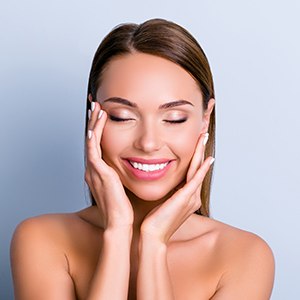 For decades, Botox has provided a quick and easy way to remove fine lines and wrinkles on the face, but at Pleasant Valley Dentistry, we can use it to effectively treat a multitude of dental problems. With just a few painless injections, we can make someone stop clenching and grinding their teeth while they sleep. This helps a patient preserve their natural teeth, avoid chronic jaw pain, and even get higher quality sleep.
Understanding the Cost of Cosmetic Dentistry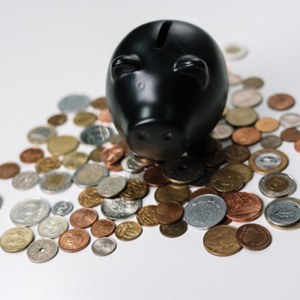 Cosmetic dentistry is often thought to be too expensive for the average person, but this couldn't be further from the truth. There are many options to address common aesthetic concerns, which means there's a solution to fit your budget. Many factors affect the cost of cosmetic dentistry, but Dr. Pogue strives to keep a beautiful smile affordable for everyone.
What Cosmetic Dental Service is Right for Me?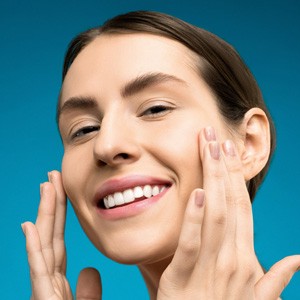 There's no flat fee for cosmetic dentistry because every mouth is unique. There isn't a one-size-fits-all method to create a stunning smile. Dr. Pogue will examine your mouth and learn more about your goals to determine which procedure will meet your needs, like:
Porcelain Veneers: Veneers can treat many imperfections quickly using a minimally invasive solution. You can resolve stains, gaps, and chips in just 2 appointments with a method that can last for a decade or more.
Metal-Free Dental Restorations: Tooth-colored materials are used to create restorations that blend in with natural teeth. They are made of durable, high-quality materials for long-lasting results.
Dental Bonding: A composite resin is shaded to the color of enamel to fix minor cosmetic concerns. It's a convenient and affordable option for chips, cracks, and more.
Teeth Whitening: Teeth can get up to 8 shades whiter using a professional whitening system. It's effective on surface and age-related stains with results that can last for many months or years.
Every product has different timelines, life expectancies, and fees. We will provide you with an estimate based on your individualized treatment plan.
Cosmetic Dentistry Can Be an Investment Worth Making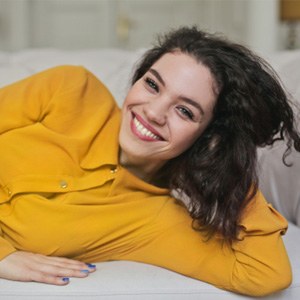 An attractive smile is attributed to youth, success, and confidence. Addressing your aesthetic imperfections can boost your self-esteem and ensure you're giving the right first impression. You'll be more approachable socially and professionally, which can open new doors in your career path. You can't put a price on the benefits you'll gain with a picture-perfect smile.
How to Make Cosmetic Dentistry Affordable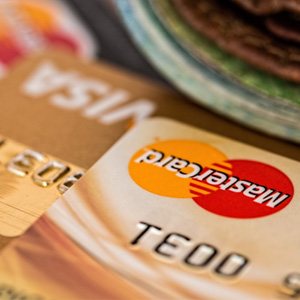 Improving your smile doesn't have to cost you an arm or a leg. A member of our team will review your estimate and explain the fees, so you'll know exactly what you'll have to pay. They will also discuss your payment options, which include:
Traditional Payments: Our office accepts all traditional payment methods, like cash, checks, and credit cards.
Dental Insurance: Dental insurance only covers medically necessary treatments. Your benefits may include certain aspects of your treatment, like your consultation, preparatory procedures, and restorative services. If applicable, we will work on your behalf with your dental insurance to maximize any benefits to offset the amount you'll pay out-of-pocket.
Monthly Payments: Pay any remaining balance using a monthly payment plan through a third-party financing company, like CareCredit. You can benefit from little or no interest in financing based on your credit approval.
Promotions: We offer various offers for select services, which we will review during your consultation.
If you are ready to invest in a flawless smile, contact our office today to schedule your consultation.