Dental Crowns – Bettendorf, IA
The Protection You Need
for Damaged Teeth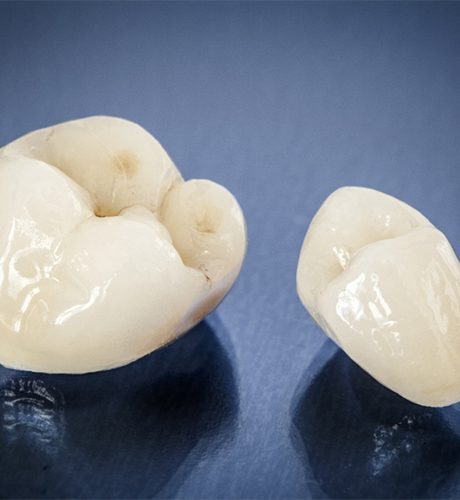 Did you know that single dental crowns are the most common restorative procedure in the United States? It's true! According to the American College of Prosthodontists, over 2 million crowns are placed each year.
At Pleasant Valley Dentistry, Dr. Joshua Thomas Pogue helps patients with damaged or decayed teeth to restore their smile with attractive, durable crowns. If you believe you could benefit from this tried-and-true dental restoration, do not hesitate to schedule an initial consultation with Dr. Pogue today!
Why Choose Pleasant Valley Dentistry for Dental Crowns?
CEREC: Top-Quality Crowns in a Single Appointment
Kind, Friendly, & Highly Experienced Dentist
Durable and Attractive Porcelain Restorations
What Is a Dental Crown?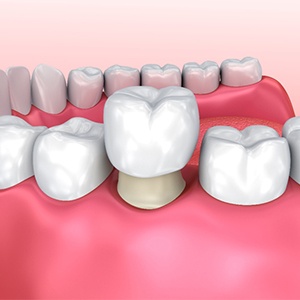 A dental crown – sometimes known as a dental cap – is a tooth-shaped restoration that fits on top of a compromised tooth to restore its shape, size and strength. In addition to protecting teeth that have been cracked, weakened or fractured, dental crowns can also significantly improve the appearance of misshapen or undersized teeth.
Do I Need a Dental Crown?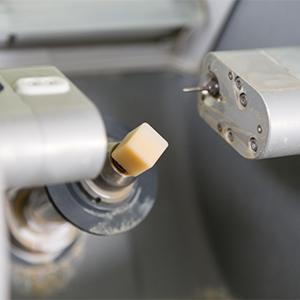 You should talk to a dentist in Bettendorf about getting a dental crown if you have:
Broken, cracked or fractured teeth
Discolored, misshapen or undersized teeth
Teeth that have already undergone root canal therapy
Teeth with large dental fillings, as these can weaken the teeth walls
The Dental Crown Procedure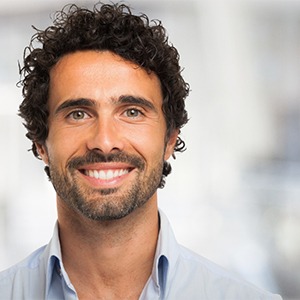 Unlike most dental practices that require two trips to complete dental crown placement, Dr. Pogue provides custom-made crowns in a single appointment! What's his secret? He uses cutting-edge CEREC technology.
The CEREC system combines computer-assisted design and manufacturing technology to craft high-quality crowns in-office in just about an hour.
When you visit Pleasant Valley Dentistry for a dental crown, Dr. Pogue will first prepare the tooth by filing it down to make room for the restoration.
Then, a digital impression will be made of your tooth using a very small intraoral camera. This data will be uploaded into the CEREC software, where Dr. Pogue will make a virtual model of your tooth and your custom restoration.
The digital crown model will then be wirelessly transmitted to the in-office milling machine, which will create your new dental crown right then and there!
Once the crown the ready, Dr. Pogue will place the it on your tooth and send you on your way.
What Are the Benefits of Crowns?
Pleasant Valley Dentistry recommends dental crowns to protect and restore damaged teeth due to their wide range of benefits, such as:
Superb Protection – Dental crowns protect broken, decayed or cracked teeth from further damage and can often prevent the need for extraction.
Improve Eating Ability – Thanks to crowns' extreme durability, you can eat all your favorite foods without worry!
Enhance Appearance – If you have a discolored or misshapen tooth, natural-colored dental crowns can majorly enhance the appearance of your smile and give you a big boost of self-confidence.
Custom Restoration – Every crown made at Pleasant Valley Dentistry is custom-designed to meet your specific smile needs.
Care Tips for After Crown Placement
Caring for a dental crown is fairly easy but very important. Immediately following crown placement, you may feel slight tenderness around the affected area. However, any discomfort can be easily treated with over-the-counter pain medication and will quickly subside in a few short days.
For the first 24 hours following the placement procedure, be sure to avoid sticky foods that could pull on or even dislodge your new crown.
Soak and gently rinse the side of the mouth where the crown is located with warm salt water twice a day for a least 5 days, or as directed by Dr. Pogue.
After the first day following crown placement, you may eat and drink all your favorite foods and beverages, as well as clean your tooth normally.