Trusted Bettendorf, IA Dentist
Get to Know
Dr. Joshua Thomas Pogue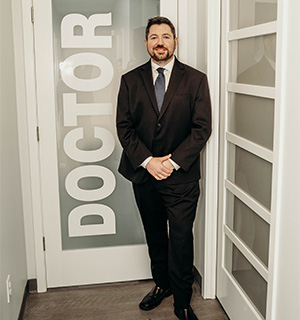 Dr. Pogue is very proud to be serving the Bettendorf community by providing compassionate, pain-free treatment with the latest in modern dental technology and high-quality clinical care. With the help of his gentle touch, many patients who've struggled with dental-related anxiety in the past have found their experiences here easy and even enjoyable! To learn more about him, continue reading below.
Education
Southern Illinois University School of Dental Medicine
Memberships/Affiliations
American Dental Association, International Dental Implant Association, Academy of General Dentistry, American Academy of Implant Dentistry, Iowa Dental Association
Why Did You Decide to Become a Dentist?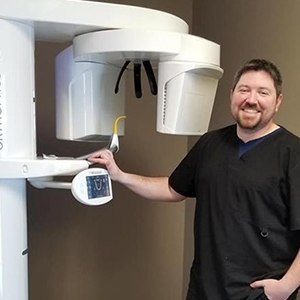 Dr. Pogue didn't actually get a chance to visit a dentist's office until he was 15 years old. His mother had just started a new job that came with insurance, and she took him and his sister to a local dental office. Understandably, he ended up needing quite a bit of work done, including a root canal and a crown. This led to him spending quite a bit of time in the treatment chair, and over time, he became very interested in the dental field as a result. He really enjoyed learning about each unique procedure!
Additionally, Dr. Pogue has always enjoyed schoolwork and had a special interest in medicine particularly while growing up. He also loves working with his hands – a trait passed to him from his father, who was a tractor mechanic. Dentistry provided the perfect balance of working with one's hands while also pursuing a career in healthcare. Personally, he's undergone almost every dental procedure possible, so he can easily relate to patients who require the same care! They appreciate his careful touch and down-to-earth mentality.
Where Did You Study Dentistry?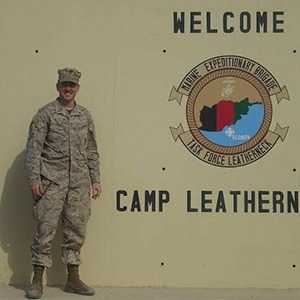 After completing his undergraduate degree at Marquette University, Dr. Pogue served his community as a social worker and joined the United States Marine Corps in 2007. He served his country as a logistics officer, which included a 12-month tour to Afghanistan in support of Operation Enduring Freedom. After his service was complete, he graduated with honors from the Southern Illinois University School of Dental Medicine.
Today, Dr. Pogue has undergone an extensive amount of advanced training to further his clinical skillset, including continuing education through Implant Seminars, SPEAR, and the Sirona Institute. He is a Fellow of the International Dental Implant Association and a member of the Illowa Dental Study Club. He regularly reads up on the latest developments in sleep medicine, TMJ/TMD therapy, clear aligners, and other services too. He's also been deemed "Dr. Josh, The Dentist America Trusts" by Craig Ferguson – yes, the comedian and TV host! He's appeared on his XM radio show twice.
Outside of the Dental Office, What Do You Like to Do?
At home, Dr. Pogue has a wonderful wife and four energetic, kind of crazy children named Owen, Audrey, Tyler, and Drew. In his spare time, he enjoys playing the guitar, being outdoors, and playing with his dogs. He also collects Pac-Man memorabilia!