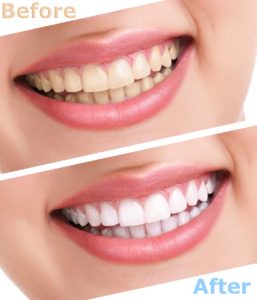 Are you insecure about your dark, discolored teeth? You're not alone. Many people are unhappy with tooth discoloration. Thankfully, you have more options than ever to reverse stains, like teeth whitening or porcelain veneers. Depending on your specific needs, your cosmetic dentist will evaluate your concerns and discuss your goals to help you achieve a bright smile you'll be proud to show off.
Types of Tooth Discoloration
Did you know not all stains are the same? There are several types of tooth discoloration, which are caused by various factors. Your dentist will need to identify the type to determine a suitable treatment plan. Stains are generally categorized as:
Extrinsic Stains: When the surface of a tooth is stained, such as from foods, drinks, poor oral hygiene, or smoking, it is classified as extrinsic. They are usually easy to treat, such as with a whitening treatment.
Intrinsic Stains: When a stain originates below the enamel, such as from certain medications or excessive fluoride, they are intrinsic. Unfortunately, they can be difficult to treat with a whitening system. Instead, porcelain veneers might be a better option.
Are-Related Stains: Age-related stains can be both extrinsic and intrinsic. Your enamel thins over the years, causing more of your yellowish dentin to be visible. When thin enamel is combined with the long-term effects of smoking, drinking coffee, or other stain-causing factors, the discoloration can be severe.
Teeth Whitening
Your cosmetic dentist uses a highly concentrated whitening agent to deeply penetrate the enamel to resolve surface stains and some age-related discoloration. Your teeth can become as much as 8 shades brighter after one in-office treatment. As an alternative, you can also achieve professional quality results from the comfort of your own home with a take-home kit. Your dentist will provide you with everything you need to brighten your smile over a 2-week period.
Porcelain Veneers
A porcelain veneer is a thin shell bonded over the front surface of a tooth to instantly hide a variety of imperfections, like stains. When a traditional whitening treatment isn't enough to resolve them, you might be a candidate for veneers. Patients with intrinsic stains can cover those that don't respond to whitening treatments. Veneers can also be used to hide other imperfections, like chips, cracks, and gaps. You'll improve the overall color, size, and shape of your teeth to give you a gorgeous, bright smile.
Which is the Right Treatment for Me?
Your dentist will perform a thorough consultation and discuss the results you want to achieve. They may suggest one or both procedures to accomplish your dream smile. Don't hide behind tooth discoloration any longer. Get the radiant, youthful smile you deserve with the help of your cosmetic dentist.
About Dr. Joshua Thomas Pogue
Dr. Pogue earned his dental degree at the Southern Illinois University School of Dental Medicine. He's a member of various dental organizations, like the American Dental Association. He combines his experience with the latest advancements in dentistry to create healthy, attractive smiles. If you're interested in cosmetic dentistry, contact our office today to schedule your consultation.